A survey conducted by "Big Four" accounting firm Deloitte indicates that nearly 85% of executives from various U.S retail organizations expect digital currency payments to become "ubiquitous" among suppliers in their industry in the next five years.
Nearly all the respondents agreed that the use of digital currencies for regular, everyday purchases will increase over the next few years. This trend is likely to grow as the technology continues to mature and merchants' broad confidence is coupled with strong convictions.
However, merchants also report concerns/barriers to adoption as well as execution challenges. We see a number of them (e.g., security and integration challenges) could be addressed through deeper conversations on aspects of the technology and its implementation.
The pool was conducted in collaboration with PayPal among 2,000 senior executives at U.S. retail organizations in sectors including cosmetics, digital goods, electronics, fashion, food & beverage, home/garden, hospitality, leisure, and transportation.
Cryptos and stablecoins welcomed
Merchants are considering the adoption of two different types of digital currencies: cryptocurrencies and stablecoins.
Since the introduction of Bitcoin in 2008, customers have played a strong role in driving interest and adoption of digital currencies. More recently we have watched COVID-19 transform the world, causing many companies to accelerate digital transformations and customers to embrace new, digital forms of money, leading to a recent boom of the crypto industry. Around two-thirds (64%) of our surveyed merchants indicated that their customers have significant interest in using digital currencies for payments, and 83% expect consumer interest in digital currencies for payments to increase or significantly increase over the next 12 months.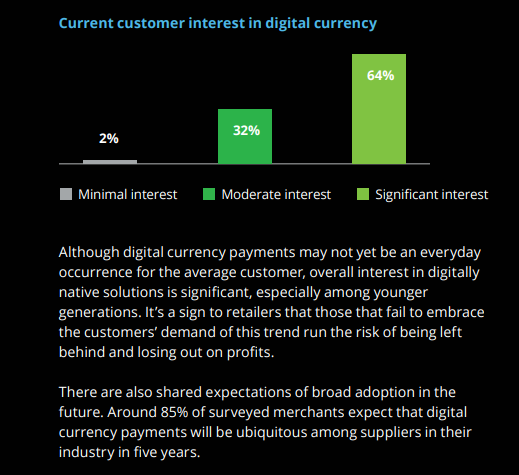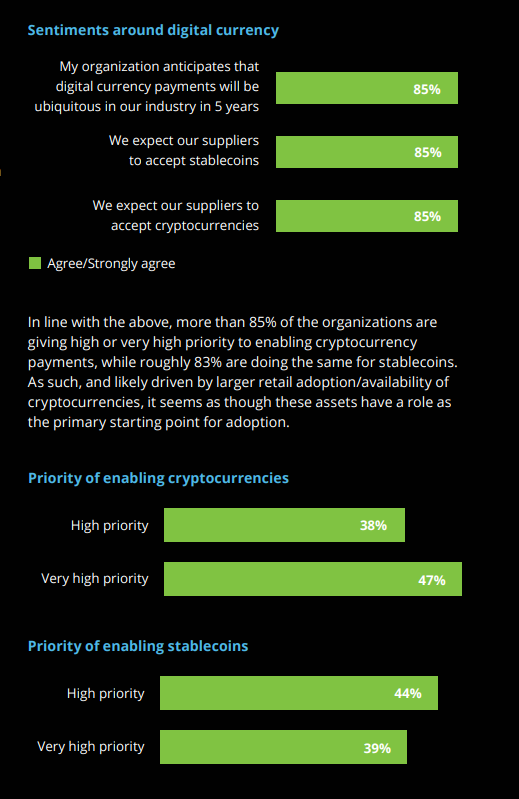 Merchants ready for digital currencies
Survey respondents are very optimistic about digital currencies in the consumer market, reporting broad agreement that accepting digital currency payments is already a point of differentiation, and are expected to see broad near-term adoption.
More than 85% of respondents are giving high or very high priority to enabling cryptocurrency payments, while around 83% are doing the same for stablecoins. Nearly three quarters (75%) of respondents revealed that they have plans to accept either crypto or stablecoin payments in the next two years.
Merchants recognize a number of challenges when considering the enablement of digital currency payments. Among them, they consider complexity of integration as the leading challenge.